Emara By Ole-Sereni – The Best Luxury Hotel in Nairobi, Kenya for Your Staycation
Nothing beats a staycation at 
Emara by Ole-Sereni
. Emara is an African luxury hotel that brings together all the beauty of nature with the elegance of modern urban living. In Emara, you can enjoy an exclusive blend of African hospitality with world-class guest service.
We provide the perfect balance of tranquility and sophistication that allows you to meet your essential self while indulging in an unforgettable experience. The rooms at our hotel provide a warm and friendly atmosphere that should leave you feeling less stressed. The modern design of the rooms is perfect for relaxing and enjoying with friends and family.
Location: Why Is Emara The Perfect Destination For A Staycation?
Emara by Ole- Sereni offers luxurious and comfortable living in the heart of Nairobi. We take pride in introducing ourselves as one of the best five-star hotels in Kenya. Located just off Mombasa road, near Nairobi National Park, our hotel enjoys proximity to JKIA (12km), Wilson Airport (6km), and City Centre (10km).
Peaceful and exotic, Emara by Ole-Sereni is the perfect blend of service excellence, accommodation quality, and conference facilities. Visitors to Nairobi are often looking for something that is both fun and relaxing – we offer just that.
Emara is located in a perfect area for both business and leisure needs. This scenic hotel offers luxurious accommodations with panoramic views of Nairobi city and Nairobi National Park. Emara is located in a very convenient location. We offer great amenities, giving you the best experience possible during your stay.
What Are The Rooms Like At Emara?


We are renowned for luxurious stays and views of the Nairobi National Park. Each guestroom and suite we offer have an aura of elegance paired with generous amenities, classic furnishings, and breathtaking outside views.
We want to make you feel right at home. When you visit us, you'll be getting a touch of character with hints of the experience that awaits. Our rooms are styled with contemporary furniture and luxurious marble floors to create your own laid-back atmosphere.
Every room in the hotel offers a luxurious and sophisticated stay with views of the park or the city. Whether you prefer luxury hotel-style rooms or an apartment-style living experience, Emara offers exceptional views and comfort both of which are sure to make your stay an excellent one.
Luxury Rooms
Our accommodation offers a wonderful and relaxing experience – whether you're waking up to the sight of wildlife in the Nairobi National Park, or enjoying views of modern, city life from your room.
All our rooms are decorated in beautiful modern décor and contain high-tech luxuries. If you're looking for a hotel that'll spoil you with luxury, check out one of our best rooms in Nairobi. From the rooftop pool to the personalized service, we take care of our guests here.
Apartments


We're here to make your stay at our hotel apartments extra special. Our apartments offer amazing views, as well as a luxurious atmosphere where you can relax and enjoy the outdoors without even stepping outside.
Emara Ole Sereni offers exquisitely upscale living in Nairobi and upholds the highest quality standards. Each apartment has:
A kitchenette

Queen size beds

A master bathroom

Egyptian cotton linen

Complimentary internet access

46-inch widescreen interactive HD TV
Services & Amenities: What to Expect From Your Stay At Emara
Our hotels provide all that one might need, from top-of-the-line amenities to location and more. Some on-site amenities include-
Bathroom Products


When you book with us, you'll enjoy a luxury bathroom with a complete set of branded luxury lotions and soaps. You'll also have access to dental kits, shaving kits, vanity kits, and loofahs just to name a few features. Our amenities are perfect for business travel or vacation in Kenya.
Mini-Bar


Our personalized mini-bar is designed beautifully and seamlessly blends in with the design of the other rooms. We have a broad selection of drinks – including beers, wines, and sodas – for you to choose from during your stay. We also have snacks available for purchase. If you would like to order something from the In-Room Dining menu, there's a greater variety of food on offer.
At Emara, we believe in giving guests an intimate and uninterrupted sense of peace. When staying here, you'll feel refreshed after a vacation. Our hotel has stunning views and we offer great service to all our guests. You'll have easy access to some of Nairobi's most unique attractions while taking advantage of our exquisite amenities. Some of which include-
1. Concierge Service
We take care of all the little things for you, so we can all focus on what matters. We help with travel arrangements and excursions in our local area and beyond. Get recommendations for events in Nairobi, culture-related experiences in Nairobi, flea markets, nightlife in Nairobi, and other relevant topics from our concierge service.
2. Travel Desk


Our travel desk is committed to booking and delivering all your travel-related needs. We strive to make the travel process a safe, easy, and enjoyable experience. Our team of experts can help you book everything from safaris – to booking an air ticket or excursion. We are your one-stop solution when it comes to planning your holiday in Kenya.
3. Gift Shop


Check out our store for great souvenirs and mementos for your friends and family back home. They're the perfect gifts for any occasion and will make your loved ones feel like the most special people in your life.
Extravagant Fine Dining Experience at Emara By Ole-Sereni In Nairobi


When you come to eat at Emara Ole-Sereni, you can expect only the finest of food from all corners of the world. You'll get a great level of decor, and views that are incomparable, and be served by friendly staff members that know how to make your meal enjoyable.
Emara boasts an international menu with dishes from Asia to Africa along with neighboring countries. If you want to simultaneously enjoy the beautiful views of Nairobi National Park, stop by one of these restaurants to enjoy a delicious meal:
Acacia Restaurant


At Acacia, we're dedicated to making your dining experience a pleasurable one. Visit our restaurant where you'll find some of the most sumptuous food from around the world served in buffet style 24/7 for all three meals.
Apart from its well-designed interiors and beautiful terrace views of the Nairobi National Park, the restaurant also offers top-notch service. Therefore, it is one of the finest luxury restaurants in Nairobi.
Oasis Bar


Rest and enjoy your beverage in our comfortable Oasis bar. Sip a glass of scotch or any of our other drinks from our extensive range. Wine, liquors, and mocktails are also available for you to choose from.
Many people would rate the Oasis Bar as one of the best bars in Nairobi. It's got a great outdoor area with an outdoor setting, a friendly atmosphere, and appealing decor. The food is delicious and there are plenty of drinks to choose from.
Sky Lounge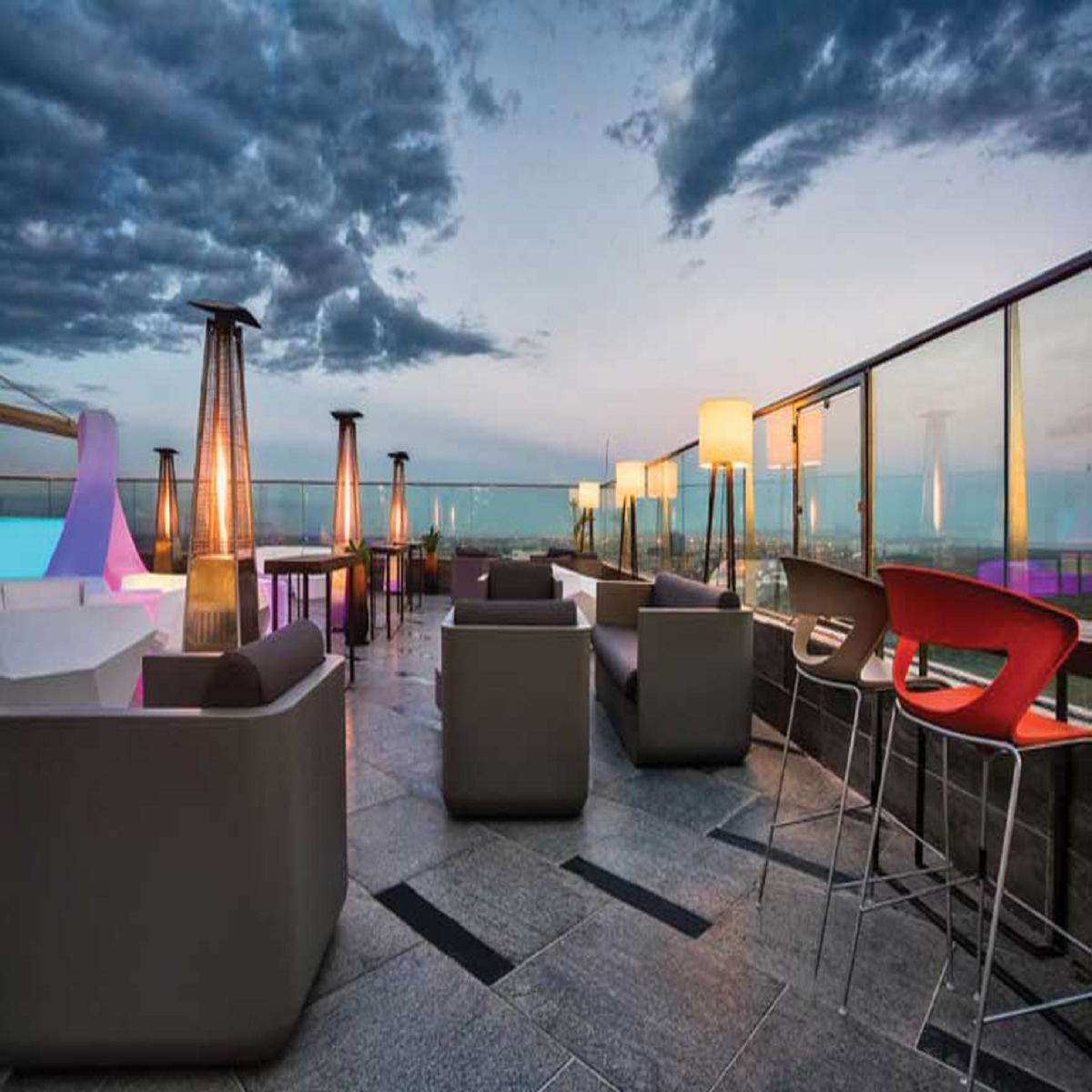 The Sky Lounge at Emara is the perfect place to escape the hustle and bustle of city life and kick back in style. This Nairobi hotspot has unbeatable views of the country's national park. If you need some time off after a long day, head over here with friends to unwind.
Sundowners, hangouts, or romantic dates – this place got it all. Their sophisticated atmosphere and chilled vibes are the perfect getaways from a busy day. The Alfresco Dining will suit anyone craving good food, cocktails, and interesting conversations!
Karibu Cafe


Stop by our cafe and experience the exquisite aroma of Freshly Brewed Coffee and Teas and a variety of yummy bakery items. You can relax for a moment, meet with your friends, or get some work done.
Located in the ground floor lobby area, Karibu Cafe offers a pleasant atmosphere that gives a sense of connection to those around. Karibu cafe is also well-lit and creates an ambiance best suited for a casual light meal.
The Perfect Staycation Destination In Nairobi – Book Your Stay Today!
Emara provides an unforgettable staycation experience for its guests via a combination of great adventure and luxury pampering. Our hotel's diverse offerings ensure that your experience with us will be memorable.
You'll be able to experience truly decadent cuisine, luxurious accommodations, and savoir-faire service that's a cut above the rest. We guarantee you won't want to leave! Book now for an unforgettable experience!