What Is It Like To Stay in a Luxury Hotel in Nairobi?
Luxury hotels may provide relaxation and a feeling of comfort in a way that you're not likely to find anywhere else. Luxury hotels are not just for those who can afford them; they are also for those who want to experience something new and different.
With luxury hotels in Nairobi, you can enjoy the benefits of a refined lifestyle. They have every amenity you could ever desire like premium services, luxurious amenities, and incredible views of the city.
The fantasy of visiting an exotic luxury hotel is what draws many people, but it is not just the fantasy that keeps people coming back. The service, amenities, and ambiance at these hotels make luxury hotels a popular destination for travelers.
The Best Luxury Hotels in Nairobi For Business Travellers
Luxury hotels are meant to provide an oasis for your senses when traveling for work. They offer a break from the monotonous lifestyle that is typically typical of other hotels. They offer exceptional amenities and exquisite decor that sets them apart from other types of lodgings. Emara by Ole-Sereni is the perfect place for a pleasant and luxurious break in Kenya's capital. Their tranquil location offers interesting outdoor activities and you'll be in awe of the beautiful views.
Emara Ole- Sereni offers only the best 5-star accommodations in Nairobi, with serene views and warm hospitality. Located just off Mombasa road, near Nairobi National Park, our hotel enjoys proximity to JKIA (12km), Wilson Airport (6km), and City Centre (10km). Emara is perfect for people traveling for work in Nairobi. It is close to major attractions, so you can explore the city with ease.
Emara Ole-Sereni – Hotel In Nairobi With Incredible Services & Amenities
Emara is the best five-star hotel in Nairobi, Kenya that offers top-quality features and unparalleled luxury. This is a fantastic choice if you're looking to relax after your business traveling trip.
Get Magnificient City Or Park Views From Your Room At Emara
We are so excited to offer you a different experience with each room. Their design draws from luxurious materials and contemporary style. You'll be able to enjoy your stay and enjoy the downtime in between events or business meetings with ease. Each of our rooms offers breathtaking views of the park and the city. They come with modern amenities and luxurious but functional designs.
We offer a diverse range of rooms for you to experience. Our contemporary style makes you feel at home on any budget, while our peaceful and inviting aesthetic creates a sense of warmth and peace. Our guest rooms are designed with the most luxurious of comforts and have a modern concept. The design is exquisite and will exude an air of eminence any time you choose to step into your room.
With accommodations available in different styles to suit your needs, Emara offers excellent views of the city and luxury in every room. Choose from a variety of suites, both hotel-style facilities or apartment-style accommodations –
Luxury Rooms
Unwind in the magic of our rooms, where you can wake up to the sight of Nairobi's National Park, enjoy views of the city and relax with extraordinary modern decor. Each room is equipped with high-tech comforts as well. For a luxurious stay, book one of our custom-designed hotel rooms in Nairobi. Let us do the rest to provide unparalleled service and unforgettable experiences.
Apartments
Home away from home, we will provide you with an extravagant abode with stunning views. Our spacious rooms have views of lush greenery and are perfect for relaxing at any time. Emara provides impeccable quality and standards, both in hotel apartments and their lavish amenities. The apartments in this property all have:
Queen size beds

A master bathroom
Egyptian cotton linen
Complimentary internet access
46-inch widescreen interactive HD TV
Luxurious Amenities
Our hotels are among the most sought-after in Kenya. They have state-of-the-art amenities and prime locations, perfect for both business and vacations. We wanted to make the room feel like a home away from home, so we packed it with one, complete range of luxurious toiletries and accessories.
You'll find branded lotions and soaps, dental kits, shaving kits, vanity kits, and loofahs at The Mint. We offer our guests a personalized minibar with a sleek design to match the décor of your room. We offer a choice of whiskeys, beers, wines, sodas, and snacks which are available for purchase during your stay.
Amenities On-Site At Emara
Emara is a luxury wellness retreat that will give you an opportunity to recuperate from the stresses of the day. Our personalized service and luxurious setup will give you the chance to rest and enjoy yourself on a break.
Our facility is splendid and has all the features you could ask for. You'll be able to experience some of the city's most beautiful sights while staying with us. Here are some amenities you find at Emara
1. Concierge Service – We offer personalized services that will exceed your guests' expectations. We make travel arrangements, car and airport transfers, and group and individual safaris as well.
2. Travel Desk – Our staff will be happy to assist you in any way that we can! If you need help booking a car, finding flights, or going on a tour, our dedicated travel desk will be more than happy to help.
3. Gift Shop – Treat your loved ones to beautiful and personalized souvenirs from our store! These are perfect for any occasion or as a nice addition to their living space.
Dine-In Some Of The Best Restaurants In Kenya's Capital
Emara offers an exquisite atmosphere, amazing food, and beautiful decor. If you like fine dining, this is the place for you. Emara's international dishes are composed of Asian, African, and neighboring countries as well. You can enjoy the views of Nairobi National Park while trying out different mouthwatering dishes. Here are some restaurants and cafes at Emara:
Acacia Restaurant
Tuck into our delicious and varied buffets, which are available throughout the day and even at midnight. Enjoy your meal in an ambiance that is conducive to both business and pleasure. We serve fine dining every day 24/7.
When you visit the restaurant, you get to enjoy the views of the Nairobi National Park inside and out. This makes it a perfect place for those who want a luxurious and beautiful space to dine in.
Acacia is the perfect place for any type of guest looking for a warm, cozy, and romantic dining experience. The setting is beautiful and the chefs are wonderful. Plus, they have excellent staff waiting to serve you. Make your reservation now!
Oasis Bar
Come relax at the Oasis bar and enjoy one of our many premium drinks with your friends or business partners. One of the best areas for a drink in Nairobi is without a doubt the Oasis Bar. With an impressive setting, amazing decor, and live music, this bar also offers incredible views of the park.
Sky Lounge
Emara is an excellent choice if you're in search of a tranquil area in the heart of Nairobi where you can unwind after a long day. The Sky Lounge at Emara is their most popular venue and offers breathtaking 360-degree views of the National Park as well as unparalleled services.
This hotel is a hidden gem in the surrounding area with prime views of the city and park. The location is close to a waterhole in Nairobi National Park which makes it the perfect place for wildlife spotting. In addition, this hotel has great sunset views and is ideal for nature lovers who wish to see animals in their natural habitat.
Karibu Cafe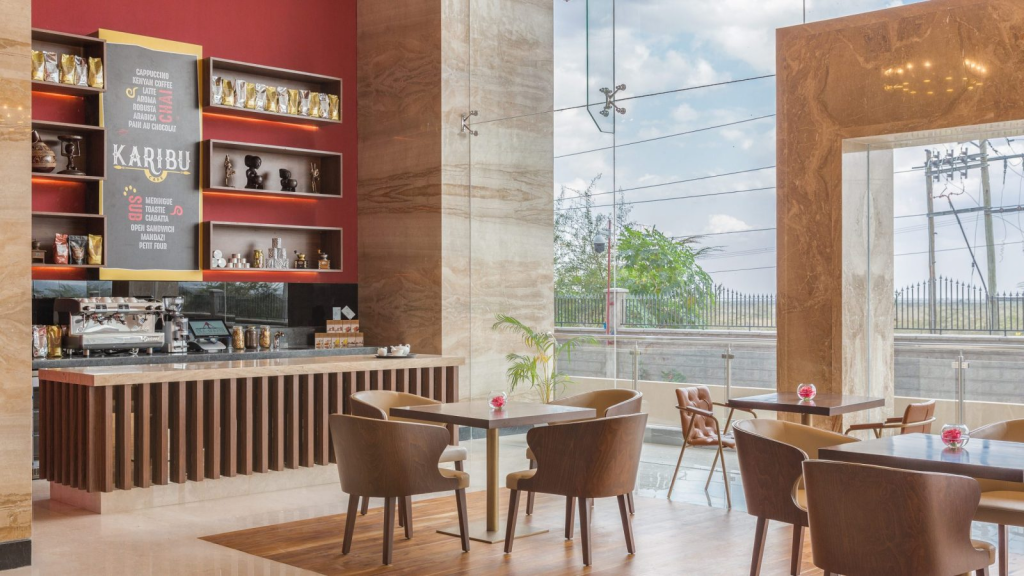 Stop by Karibu Cafe to try out our range of freshly brewed coffees and teas. You can also have a taste of the sandwiches and pastries on offer while enjoying some drinks. Karibu Cafe is a perfect place to meet up with friends or grab a bite before or after a work day. The ambiance, food, and the fact that it is one of the best cafes in Nairobi make it a great choice.
Relax And Unwind At Emara – Best Hotel For Working Travellers In Nairobi
Emara by Ole-Sereni Hotel is a popular getaway for business and leisure travelers alike. It provides excellent services in a luxurious setting, and the staff does everything to make you feel at home.
Guests love how much care and attention goes into every detail of our hotel. The impeccable service, fabulous accommodations, exquisite cuisine, and excellent location draw them to us. Book your stay today to maximize your wonderful experience in the beautiful city of Nairobi, Kenya.