A Guide to Finding the Best Restaurants in Nairobi with Delicious Food for Your Next Trip
Nairobi, the capital city of Kenya, draws everybody and is known for its diverse cuisines that people of all backgrounds can enjoy. Nairobi is home to some of the best restaurants in East Africa where they offer delicious cuisine options that appeal to everyone from locals boasting a diverse culture to travelers searching out fine dining.
The city of Nairobi is one of the most beautiful cities in East Africa. It is a place where you can find everything from stunning architecture, cool nightlife, and some of the best food you've ever had. Great restaurants can be hard to come by, but this guide will help you find some of the most exquisite establishments in Nairobi where you can find delectable cuisines.
Local & Global Cuisine in Nairobi
Although Nairobi is a lively and busy city on the surface, it can be quite a contrast in terms of cultural appeal. A variety of cultures from all over Africa blend together to make for an enjoyable trip when you visit. Nairobi has some of the best cuisines in Africa. Some of the most common dishes include Kenyan cuisine, Chinese cuisine, and Indian cuisine.
Nairobi is one of the top cities in Africa and features a diverse population. It has a different culture than other African cities and is largely influenced by ethnicities from all over the world. The presence of food from all over the world has helped create a flourishing food culture in Nairobi—which means there are always new and exciting dishes to try!
Emara By Ole-Sereni – Hub Of Fine Dining Restaurants In Nairobi
Nairobi has long been known as a culinary hotspot with a rich dining scene and one outstanding example of said diversity is at Emara by Ole-Sereni. If you are looking for a luxurious high-end dining experience in Nairobi, Emara is one of the best places to look.
The hotel is within easy reach from the airport and conveniently situated near Nairobi National Park. It offers guests stunning views of the park from all its restaurants. The hotel is unique and has some incredible restaurants in the area. The views are stunning and the decor is impeccable, so if you're looking for a fun trip or are celebrating any occasion, this place should be your go-to destination!
Take your pick from the variety of world-class cuisines for a spectacular dining experience. Our customizable options. With beautiful and serene views of Nairobi National Park and Nairobi city, you'll be able to enjoy a superior dining experience.
Best Restaurants & Bars in Nairobi with Delectable Food, Drinks, and Atmosphere!
There are many wonderful restaurants in Emara, with a variety of international cuisines to offer. With such amazing views and delicious dishes, you will never want to leave! Check these restaurants and bars out on your visit to Nairobi –
1. Acacia Restaurant – Perfect for a Romantic Date
Choosing the perfect date spot can be tricky. Matching the ambiance and atmosphere to your preferences is important, as is choosing a restaurant with the right food, and drinks. For a special occasion or just a night out & about, we recommend Acacia Restaurant at Emara.
Acacia is an incomparable dining hotspot. They have three major meal choices of many different global cuisines and are open 24/7. It's the perfect place for a romantic dinner or a late-night snack! The restaurant has a bright, colorful interior that creates a cozy atmosphere. The service is impeccable, which is what helps make Acacia one of the best restaurants in Nairobi.
Acacia offers many incredible things to its customers. From the scenery, you can enjoy while dining, to the unique atmosphere they've created. Acacia is one of the few places in Nairobi that boast incredible views of the Nairobi National Park and an amazing setting that's perfect for all types of occasions – a romantic dinner, business meeting, and more.
A delicious meal and a peaceful environment await you at Acacia in Emara, you can experience the best of Kenya's cuisine with the help of avant-garde chefs. Acacia offers a unique experience that can't be found anywhere else, so get ready for an unforgettable meal. Reserve today for the perfect dinner date ahead.
2. Experience the Vibrant Nightlife of Nairobi at Oasis Bar
The local nightlife scene in Nairobi is packed with fun, diverse bars and lounges that are sure to please your taste. Whether you're looking for a relaxing place to unwind or need a lively locale that will keep the party going late into the night, there's a lounge that will meet your expectations.
When you want an unforgettable night out with your friends and family, visit the Oasis Bar in Emara, Ole-Sereni. Oasis Bar is a sophisticated venue designed for cocktail aficionados. This pristine lounge boasts an experience that rivals what's offered in any classic cocktail bar.
Stop by now to find your way through our wide selection of cocktails, wines, liquors & mocktails. We have a lot to offer so there is always something new to try. The Bar has an amazing atmosphere. Its design is pristine, and the captivating views of the Nairobi National Park provide a spectacular view to enjoy over drinks with friends and family.
3. Sky Lounge – Best Luxury Rooftop Bar in Nairobi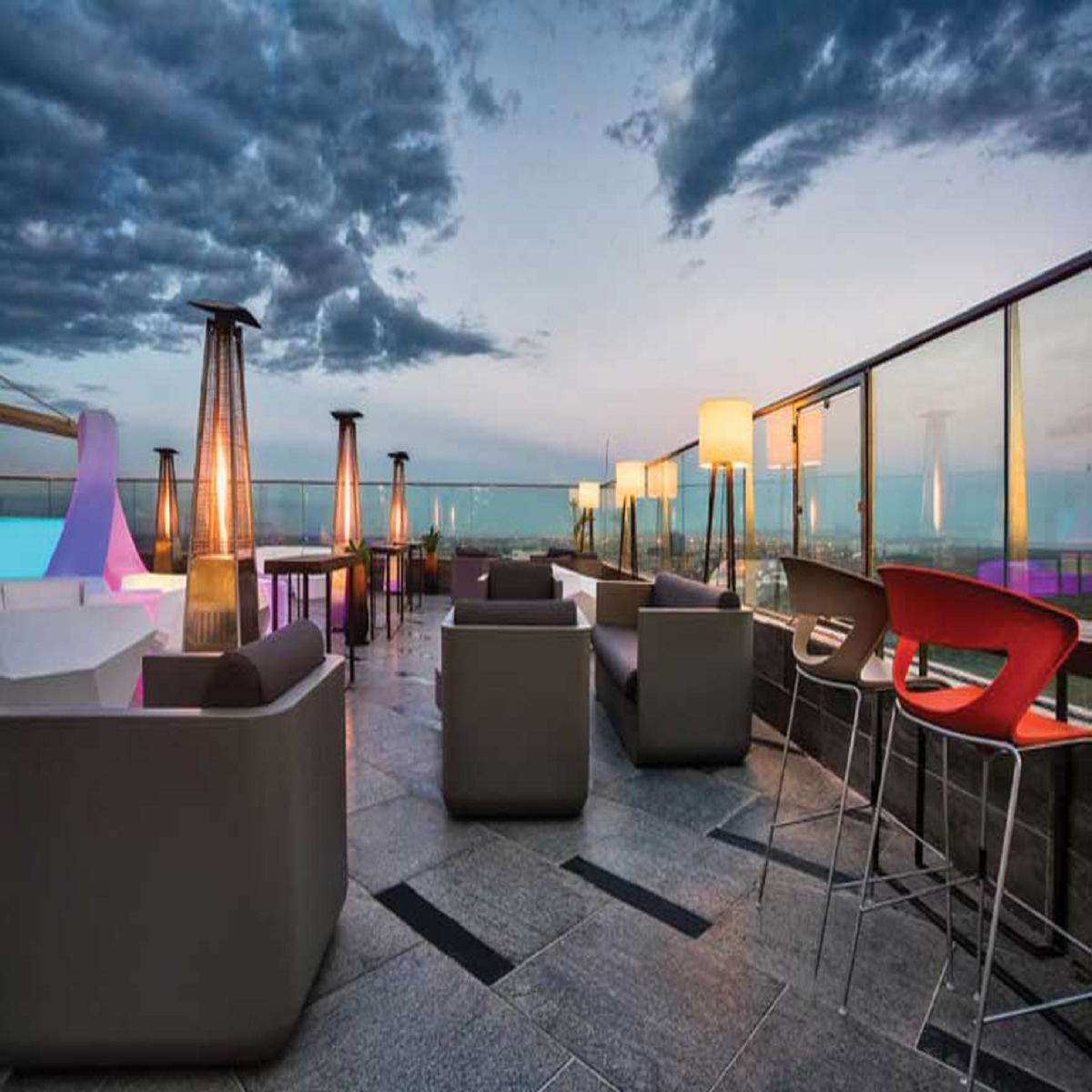 Sky Lounge is not just your ordinary bar; they've taken a unique approach that caters to the most demanding of tastes by providing a more sophisticated style of lounging! Sky lounge offers panoramic views of Nairobi city and Nairobi National Park from its rooftop in Emara Not only is this place full of natural beauty but it also feels as if you're on top of Africa.
New and tantalizing, the Sky Lounge is where you want to be if you're looking for something different. Offering some of the best drinks and food around, this bar has become one of Nairobi's latest hotspots. The interior of the restaurant has a sleek design and includes an infinity pool. The relaxed atmosphere provides a great place to hang out, have sundowners, or enjoy a romantic evening.
The bar offers a variety of drinks. Wine, beer, and an extensive assortment of food to choose from. Ladies enjoy a special discount every Wednesday while there are two-for-one deals on cocktails and sweets for the ladies every Wednesday from 12 pm onwards. Make your way over to Sky Lounge for some superb views of the city and Nairobi National Park. Enjoy a drink or two on the rooftop and relax with stunning views of the city, beautiful nature, and quality time with friends or family.
[Must Read: Spectacular Lounge In Nairobi That Gives Luxury A New Meaning]
Taste The Aromatic & Flavorful Kenyan Coffee At Karibu Cafe
Coffee is a staple of Kenyan culture and its status as one of the best coffees in the world is widely acknowledged. Kenya is known for its exceptional taste in coffee that can be found in the rich flavors of the African country.
If you're looking for a place to enjoy authentic Kenyan coffee, Karibu Cafe is definitely one of your best bets! As soon as you walk into Karibu Cafe the tantalizing aromas of fresh coffee fill the air. Enjoy a selection of your favorite freshly brewed coffee, tea, sandwiches, and pastries.
Karibu Cafe is near the ground floor lobby in Emara and features a lot of natural light. The use of attractive architecture makes it one of the best cafes in Nairobi. If you're looking for a place to enjoy some amazing coffee and relax with friends and family – this is the spot!
Enjoy A Great Dining Experience in Nairobi At These Restaurants In Emara by Ole-Sereni
In Nairobi, restaurants are plentiful, but rarely do you find a place that is the perfect blend of modern ambiance and traditional cuisine. Emara has done just that. Their mix of old-world charm and fresh ideas is one you won't want to miss. With a menu full of Kenyan and International cuisines, it's nearly impossible not to enjoy yourself here.
These restaurants offer unique experiences for those who are looking for an evening out with friends or family. Whether you want to take a meal with someone special or just want to be surrounded by good food and pleasant company, these places have what it takes to make your night one to remember.
With breathtaking views of the Nairobi National Park, this is a place one can go to enjoy some of the best cuisines in the world. At Emara by Ole- Sereni, we offer an amazing dining experience with a menu that spans many different cultures. Make your reservations today!