The Magic of Visiting The Gorgeous Kenyan City – Nairobi
The African city of Nairobi is an amazing place, famous for its ethnic diversity and vibrant culture. Its name comes from the Maasai phrase "Enkare Nairobi", meaning "cool water". Nairobi is a vibrant, cosmopolitan city with an exciting atmosphere and beautiful green surroundings. Whether you live here or are just visiting, you'll find it's easy to settle in Nairobi.
The lively, friendly locals, vibrant markets, and diverse cultures make it the perfect destination to explore! Visiting Nairobi for the first time is an unforgettable experience. When travelers visit the city, they'll see glimpses of all the different cultures that inhabit it. This is what makes Nairobi such a culturally fascinating place to explore.
Emara By Ole-Sereni: A Luxury Stay in the Heart of Nairobi
Emara by Ole-Sereni is what defines luxury and comfort. We take pride in introducing ourselves as one of the best five-star hotels in Nairobi, Kenya that offer sublime views of the city with warm hospitality. Located just off Mombasa road, near Nairobi National Park, our hotel enjoys proximity to JKIA (12km), Wilson Airport (6km), and City Centre (10km). Our hotel is a place that offers perfect service, quality accommodation, and fantastic conference facilities.
We're close to the Nairobi National Park and you'll be blown away by the views. Ready to experience our luxurious rooms and suites? They offer a tasteful ambiance, with lavish amenities and designer furnishings. And of course, there are other options available such as enjoying exquisite fine dining in one of our three restaurants or relaxing with your favorite drink up on the spectacular sky lounge.
Sky Lounge – A Spectacular Lounge In Nairobi that Gives Luxury a New Meaning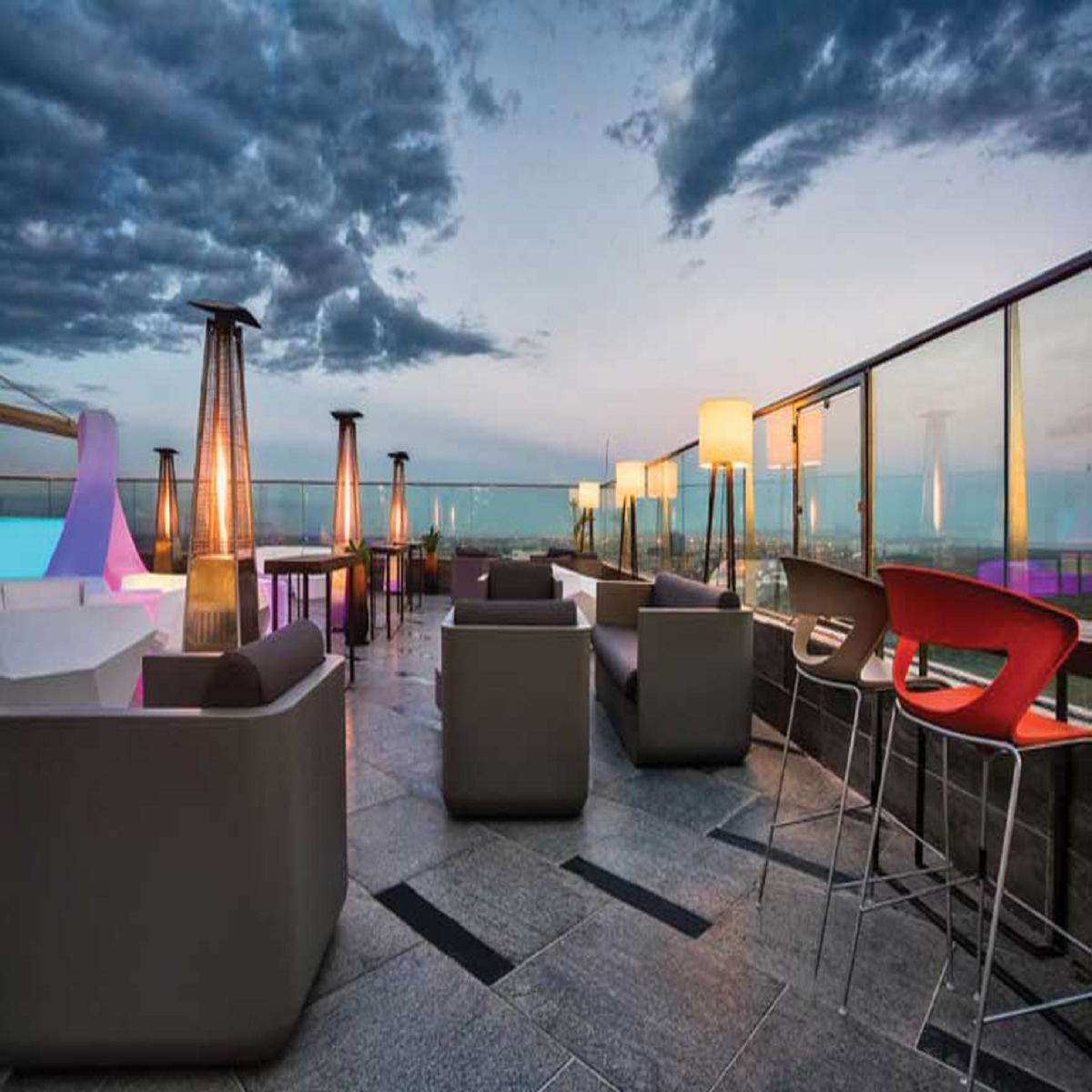 Bringing sophistication and style to an untapped market, Sky Lounge is not just another bar. This lounge caters to the demanding tastes of travelers and businessmen who desire the finer things in life. With a view that makes it feel as if you're on top of Africa, Sky lounge offers panoramic views of Nairobi city and Nairobi National Park from its rooftop at the Emara Hotel.
If you're looking for something a little different, head to the Sky lounge. This is the perfect place for those who want to indulge in Nairobi's latest craze. With some of the best drinks and food around, it's no wonder that this bar has become one of Nairobi's most talked about hotspots.
Make your way over to Sky Lounge for some superb views of the city and Nairobi National Park. Enjoy a drink or two on the rooftop and relax with stunning views of the city, beautiful nature, and quality time with friends or family, this is the perfect place for you!
The relaxed ambiance makes the pool deck a great place to hang out, have sundowners, or enjoy a romantic evening. Anyone looking to impress their date will want to bring them up here! Let the vibrant ambiance here complete your experience as you enjoy a variety of handmade cocktails and candid conversations.
Get Ready to Be Wowed by the Luxury of Sky Lounge In Nairobi and Our Fantastic Evening Parties!
The Sky Lounge located in Nairobi, Kenya is an extraordinary facility that offers guests a vast view of the city skyline and provides them with a relaxed atmosphere. The lounge has is available for private events, hosting conferences, and entertaining guests to enjoy the company of others.
Sky Lounge is the go-to destination for anyone looking to create a memorable event. We have exclusive packages that will fit your budget and all of our events are customizable to your needs. Take advantage of the first-class service with all the perks.
The wonderful leisure experience is great for anyone that's looking to take a break and relax in ideal conditions. We have an impressive space that will make your event a one-of-a-kind experience. Make your reservation today!
What's on Offer at Sky Lounge in Emara?
At Dusk, when the sun sets, you can enjoy a truly surreal view at the Sky Lounge. The bright lighting and infinity pool are enough to attract anyone. Moreover, you can watch different wildlife gathering around the water hole in National Park across our hotel- we promise it's a breathtaking view!
We offer a variety of drinks, wine, and beer, as well as delicious snacks and appetizers. Ladies enjoy a special discount every Wednesday. Get two-for-one deals on cocktails and sweets every Wednesday from 12 pm onwards.
3 Reasons Why You Will Love Spending Time at Sky Lounge in Nairobi
The Sky Lounge is a beautiful venue where you can experience the best of Nairobi. Here are three reasons why you should spend time here:
1. Top-Notch Service – The wait staff is attentive and welcoming, whether you're there for a drink, to have dinner with your significant other, or to spend time with friends. They make sure you feel at home!
2. Amazing Decor That Reflects a Classic and Modern Elegance – Every piece of decoration at Sky Lounge exudes class, with the seating arrangements and the views this is the best spot in Nairobi. Unwind, Refresh, and Recharge with friends and family here!
3. The Food – Our menu has something special to offer every time of day, so we have your satisfaction guaranteed. From chicken wings to BBQ Ribs; every dish is delicious and mouth-watering.