Why You'll Want To Come Back To Emara By Ole-Sereni For The Amenities Alone
Emara Ole-Sereni is the best five-star hotel in Nairobi, Kenya that offers top-quality features and unparalleled luxury. Our goal is to provide a relaxing and refreshing experience, so you can return from your travels feeling rejuvenated. Located just off Mombasa road, near Nairobi National Park, our hotel enjoys proximity to JKIA (12km), Wilson Airport (6km) and City Centre (10km). 
We provide an homely and welcoming feel that is meant to make you feel less stressed and more excited. Our rooms offer a hip and modern design that's perfect for chilling or having fun. The marbles in our rooms are unique and of high quality, which is important to convey the luxurious experience we want our visitors to have. With our convenient location and high-quality amenities, you'll enjoy your stay at Emara Ole-Sereni.
Unique Sense Of Luxury In The Bedrooms and Suites In Emara Ole-Sereni
We pride ourselves on having a touch of character with the experience that awaits you in each room. The design of each space is contemporary, with luxurious marbles are chosen to create an atmosphere where you can relax and unwind. Each of our rooms is luxurious and has exceptional views. They offer a great view of the park and the city too.
Luxury Rooms
Get some peace and quiet in our rooms. From waking up to the sight of the Nairobi National Park, to enjoying a drink while looking at city views, we have something for everyone. Excellent rooms decorated with a modern touch and equipped with high tech amenities! If you can't wait to experience unmatched sophistication, book one of our best hotel rooms in Nairobi and we'll take care of the rest!
Apartments
Home away from home is a place that offers a luxurious abode with stunning views. You can find rooms with park views, perfect for a restful stay. Emara Ole Sereni offers a wide range of great apartments in Nairobi, from luxury to convenience.
Each apartment is equipped with:
A kitchenette

Queen size beds
A master bathroom
Egyptian cotton linen
Complimentary internet access
46-inch widescreen interactive HD TV
Luxurious Amenities
Our hotels are among the most sought-after in Kenya. With state-of-the-art amenities and a prime location, they're perfect for both vacations as well as business trips. We wanted to make the room feel like a home away from home, so we packed it with a complete range of luxurious toiletries and accessories. You'll find branded lotions and soaps, dental kits, shaving kits, vanity kits, and loofahs.
We like to offer our guest a personalized minibar. It has a beautiful & sleek design set in a way so it compliments your room. 
We offer a choice of whiskeys, beers, wines, sodas, and snacks which are available for purchase during your stay.
A Top-Notch Convention Center With All The Features For Your Business Meetings
One of the best things about Emara ole Sereni is our world-class business facility which includes a convention centre & banquet hall in Nairobi. The convention centre is equipped with a grand ballroom to house large meetings, as well as a smaller banquet hall for more intimate gatherings.
We guarantee convenience, accessibility to all your needs and entertainment while you're in the city. Come experience our great views of Nairobi National Park and enjoy everything we have on offer here.
Emara provides a venue for everything from conferences to weddings and is your perfect choice if you're in search of one. Our professional support staff is always on hand to make sure your event goes as planned. When it comes to catering, we understand the importance of an excellent menu. That's why we design the perfect catering service for you, tailored to your needs. Book your meeting at one of the banquet halls or ballrooms –
Board Meetings
If you are looking for a great place to host a board meeting, Emara might be the best bet. The state-of-the-art interiors will ensure that your meeting is both productive and collaborative with features like sound-proof walls and built-in audio-visual equipment.
Mara Ball Room
Our Mara Ballroom is one of the spacious event venues in Nairobi with its sophistication and amenities, making it perfect for large corporate events or parties. The MARA Ballroom has three separate rooms: Siana, Talek, and Loita Mara. Facilities and equipment include air conditioning, lighting controlled by keypad touch systems, an inbuilt sound system, and a specially tailored atmosphere for your event.
Almasi Banquet Hall
Almasi Banquet Hall boasts an exquisite conference space with a grand design, providing magnetic views of the surrounding park and city. The lighting and air conditioning in the rooms is controlled by a keypad touch system that makes it perfect for organizing any event or conference.
Gourmet Cuisines & One-Of-A-Kind Sky Lounge
Emara by Ole-Sereni has a luxurious high-end dining experience. They offer diverse cuisine and top-of-the-line hospitality. It has some of the best restaurants in Nairobi and is certainly not to be missed. Whatever your budget or taste, you'll love visiting us. Our spectacular view, flawless service, and unique dining experience will guarantee an unforgettable experience.
There are many great restaurants in Emara offering international cuisine. With such beautiful views and gourmet cuisines, you'll never want to leave! Here are some of the best restaurants, bars & cafes that you must visit-
Acacia Restaurant
Acacia restaurant offers an exquisite, all-day buffet with a wide range of global cuisine. You can visit any time and enjoy breakfast, lunch or dinner at Acacia. The restaurant has a top-notch interior and a great outdoor terrace. It's really one of the best restaurants around, so if you want to treat yourself somewhere nice, this place is perfect.
Oasis Bar
Relax and enjoy the peace at our bar as you sip on your favourite mixed drinks. We also offer whiskey and wines. If you're looking for a laid-back atmosphere with some good views and great music, Oasis is the best bar in Nairobi. You can always find alfresco seating and vibrant decor here, as well as a warm ambience.
Karibu Cafe
Karibu offers a delicious selection of freshly brewed coffee, tea and pastries that puts you in the perfect space to rest, unwind or meet with new people. Located in the ground floor, it is well suited for business meetings and offers fresh refreshments. The Karibu Cafe has been Nairobi's go-to place for great food, ambience and good coffee!
Sky Lounge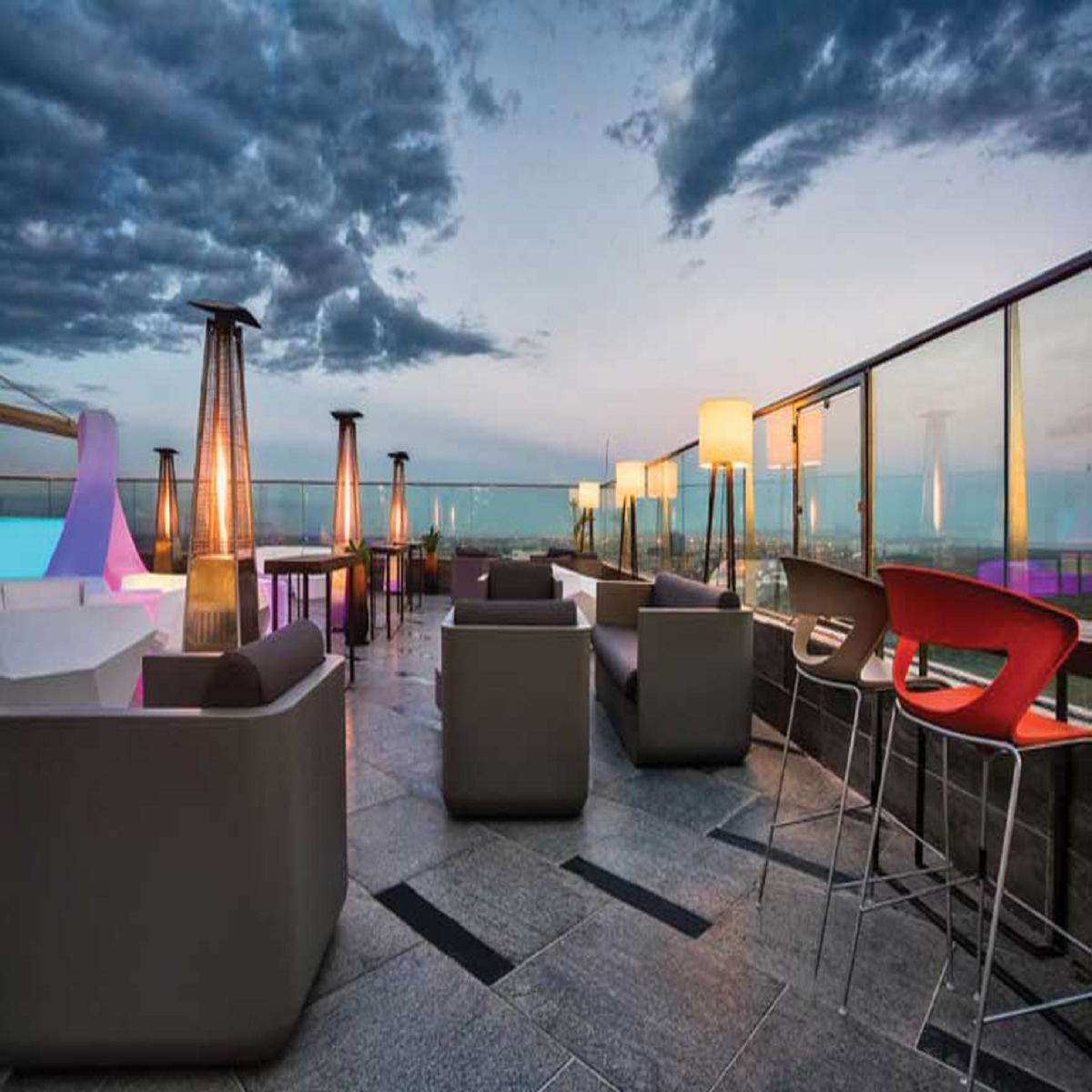 Sky Lounge is not just an average bar. It is a unique option that caters to the most discerning of tastes by providing a more upscale style of relaxation while providing comparatively exceptional service. Sky Lounge offers panoramic views of Nairobi City and the Nairobi National Park from its rooftop terrace. It feels as if you're on top of Africa and is a great place to take photos from.
The Sky Lounge is perfect for anyone looking for something new and exciting. Great drinks and tasty food, it's incredibly popular and a must-visit if you're in Nairobi. The restaurant has a slick design with a pool that looks out over the Nairobi National Park. The calming feeling it provides is perfect for enjoying sundowners or having a romantic evening.
[Must Read: Spectacular Lounge In Nairobi That Gives Luxury A New Meaning]
The Most Luxurious Hotel Amenities That Guarantee The Ultimate Vacation!
The Emara Ole-Sereni Hotel has been giving visitors from all around the world a vacation experience they will never forget since it provides adventure and fun, as well as luxury pampering. When you stay with us, your experience will be remarkable. You will enjoy high-quality cuisine, luxurious accommodations, and unmatched service. We guarantee you will have the best time of your life so book now for an unforgettable experience!